Celebrating 25 Years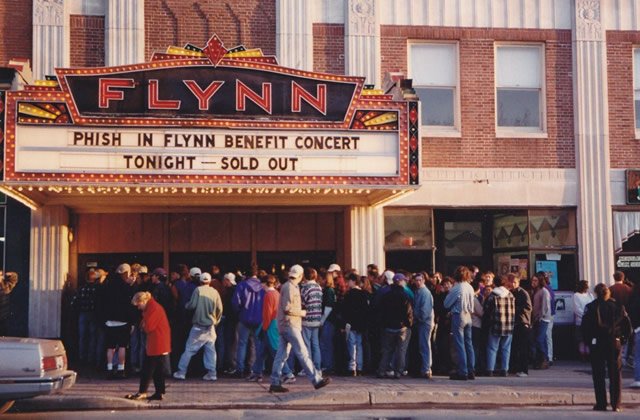 Happy 25th Anniversary
WaterWheel
Take my hand and let's take a ride
Backwards down the number line
The WaterWheel Foundation was conceived as part of the collaboration between Phish and Ben & Jerry's to create Phish Food ice cream, when the band members decided to donate their royalties from the sale of the ice cream to benefit environmental causes. On March 18, 1997, WaterWheel was launched along with the ice cream flavor at the band's legendary show at the Flynn Theater in Burlington, VT.
Read the essay below by Phish Archivist Kevin Shapiro about how it all started.
The Flynn Theatre is a historic venue set on Main Street in Burlington, Vermont. It is an Art Deco theater in design and decor, built by J.J. Flynn and his associates and opened in 1930 for live performance and cinema. After a brief time as a movie theater only, the Flynn was re-configured for performing arts in 1974. A locally run, non-profit organization of community leaders purchased it from private hands and set about restoring the theater between 1985 and 1999 creating a world-class performing arts center in the hub of Vermont's cultural capital. While rock concerts are rarely a part of that mission, Phish performed at the Flynn a number of times through the years – in 1992, 1994 and finally in 1997 in conjunction with the launch of Phish Food.

When Ben and Jerry's approached Phish to license the band name for an ice cream flavor in 1996, the band's initial response was "no, thank you" respecting a pact they made early on not to license their name to anyone but a record label. At the same time, the band members were talking about how to consolidate and focus their corporate giving which, until then, had been as impromptu as their live setlists. All the suggestions shared a focus on children's and environmental causes in the State of Vermont. As talks continued, they learned that Ben Cohen and Jerry Greenfield (at that time still directly at the helm of their creation) had a similar charitable vision. They were willing to collaborate directly with the band to develop a flavor that would help bring the band's charitable efforts to a new level.

After a summer that included Ben and Jerry's historic guest vocal slot with the band at The Clifford Ball, the visionary confectioners found common ground with the visionary band. They eventually agreed to create a flavor, with the final development being Fish's suggestion to make the marshmallow more correctly "marshmallow-y", unlike other rocky road type flavors of the past that had wispy, not-very-marshmallow-y ingredients. Ben and Jerry's Research and Development arm managed to bring that about and Phish Food was born earning frozen food awards and spin-offs that included Phish Sticks – a Phish Food chocolate covered ice-cream bar). The flavor became popular and the rest is history, with Phish Food consistently a top seller in pints and scoops sold worldwide. Ben and Jerry's has even created a special edition variation (with added chocolate cows) Phish Food 10th Anniversary Surf n' Turf Edition to celebrate this milestone. As Ben said during his introduction at The Flynn Theatre in 1997, the work between the band and Ben and Jerry was one of mutual respect and "a real spiritual connection" between them.

It was eventually agreed that the only appropriate way to kick off the release of the ice cream flavor and awareness of both companies' environmental efforts was to do what the band did best and play a live show. A special one-off U.S. theater show was booked for March 18th, 1997 at the Flynn. Tickets were placed on-sale on February 20th with procedures to ensure this special show would be attended only by the fans who bought the tickets, rather than scalpers who at that time routinely re-sold tickets to fans at top dollar against the band's wishes in spite of creative anti-scalping measures like mail order ticketing.
The band was already running their direct mail-order ticketing operation, Phish Tickets By Mail, through the Flynn Theatre Box Office where Shelly Culbertson (founder of PTBM) worked with Celia Asbell (who ran the Flynn Box Office) to fulfill orders from the faithful. This was done with surgical precision based on when the orders were received so the band could deliver the specially decorated tickets to fans in time for them to make a second attempt to buy elsewhere if their orders couldn't be filled due to too high demand. This was a challenge in a small town with very high ticket demand and fans who can be so dedicated to procuring tickets to see their band that they are sometimes difficult to placate.

It was decided that tickets for the Phish Food launch would be sold in pairs, first-come-first- serve only and that the purchasers, who bought their tickets in person at the Flynn, would have to be the attendees. To accomplish this, the on-sale was top secret until it was announced on local rock radio station and longtime Phish supporters WIZN FM the day of the on-sale at 8am. Purchasers were given vouchers that required them to return in person on March 18th for the show, produce their identification and enter with one person accompanying them if they bought a pair of tickets. This made it so even if a scalper heard the announcement and made it into the line in time to get a pair, the scalper him or herself would have to actually attend the show with whomever they sold to – an unlikely scenario which as far as we know never happened. Tickets sold out nearly instantly with local news coverage of fans buying tickets, Ben and Jerry's employees handing out free samples of Phish Food and announcing the Vermont partners' joint purpose of cleaning up Lake Champlain . Phish fans were especially excited about this small, one-off show in a year when every other U.S. gig was in a venue ten to fifty times the size of the Flynn.

Meanwhile, the band had released their latest studio album Billy Breathes in fall 1996 and toured Europe twice in less than a year to support it – once in summer opening for Santana with a few festival and headline dates and again as a headliner in 1997. On the second leg of that tour in Hamburg, they recorded the live album Slip Stitch and Pass. They also toured the United States twice in 1996 playing sold-out amphitheatres and arenas. Their last theater shows were special events even in 1995 when they happened, with a benefit for Voters For Choice at Lowell, MA in May and a three-night stand at Atlanta's Fox Theatre in November. Before that, it had been years since the band had played small venues. Their last show at the Flynn was nearly three years earlier in 1994 where they kicked off a tour supported by a horn section with a special gig (even then they were playing mostly college gymnasiums and arenas) at their hometown theater on April 4, 1994. That show was a benefit to help raise money to restore the building, so it was fitting that they returned in 1997 to christen the newly restored room.

On show day, March 18th, Ben and Jerry took the stage first that night to introduce the flavor and the band. Their introduction was remastered and provided for free download at livephish.com. The band opened their first hometown show since 1995 with their first ever
rendition of Neil Young's Cinnamon Girl followed by a non-stop combination of NICU > Sample in a Jar > Punch You in the Eye. Punch had a specially developed introductory section with lots of work by Page on his Fender Rhodes. Two more covers followed before they dove into Harry Hood, which was drawn masterfully into a more-amazing-than-usual jam section now re-mastered for free download at livephish.com. Without stopping, longtime local collaborators Dave "The Truth" Grippo and James Harvey joined the band to add horns to a no-holds-barred Cars Trucks Buses with extended solos by everyone. Cars Trucks Buses was also remastered and is provided for free download. Two more songs with horns followed – the always-raucous Suzy Greenberg and Character Zero, during which Trey wished Ben a happy birthday as they ended the song and the set.

The band kicked off set two with over a half hour of continuous music with Taste > Drowned > Prince Caspian > David Bowie. Bowie blew up as expected and a short pause ensued while local blues singer Tammy Fletcher got up to join the band in an impromptu guest appearance for two of her songs, I Told You So and Love You Like a Man. After apologizing to her date for abandoning him to sing, she proceeded to blow the Flynn up with her big booming vocals, stage presence and Phish acting briefly as the best backing band in the business as they learned her songs onstage. I Told You So was especially powerful and was remastered for free download at livephish.com. The second set continued with Waste > Chalk Dust Torture and finally a dynamically soaring Slave to the Traffic Light to seal the deal. As they ended Slave Trey said "thank you very much for coming tonight to our ice cream bash" and proceeded to thank Ben and Jerry and everyone present for helping out Lake Champlain. For the encore, the band returned with Hello My Baby acapella before closing the night out with Funky B*tch, during which Grippo and Harvey re-joined to lend horns to the classic adopted by Phish from Chicago bluesman Son Seals.

As a one-off hometown theater show full of debuts and special guests, this show was an instant classic. The efficiently circulated FM broadcast that was blasted "live" during the show at local bars helped grow the legend for the past decade. Mastering engineer Fred Kevorkian brought out the very best in the soundboard reference tracks now at livephish.com. Soon after this show, Phish gave a name to their environmental efforts when they decided to funnel 100% of their royalties from the license of Phish Food into their non-profit organization called The Waterwheel Foundation. Waterwheel's primary mission is to fund efforts to clean up the Lake Champlain watershed from years of pollution from industrial, agricultural and urban runoff. Waterwheel also developed a touring leg that partnered with local charities wherever Phish played to support local communities where the shows happened and collect donations from fans to raise money and awareness for the local partners and the foundation. The Waterwheel Foundation's mission continues to this day.

Enjoy!

–ks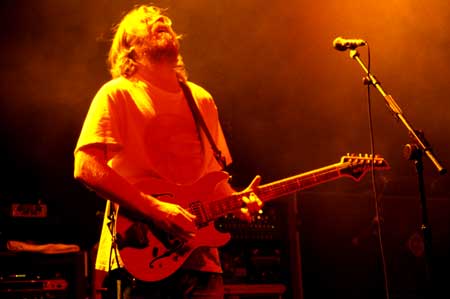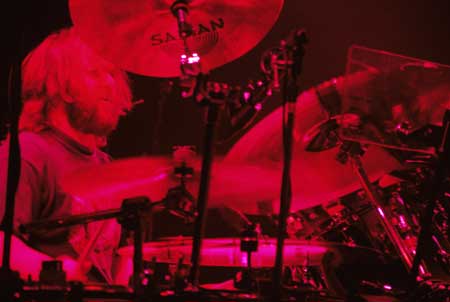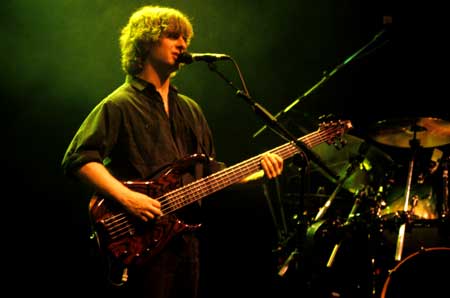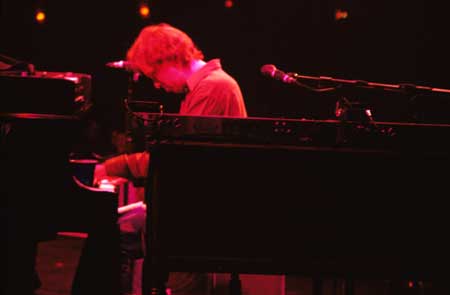 Moments in
WaterWheel

History
1997 - 2002
1997
Mar
The WaterWheel Foundation is Born!
Nov – Dec
WW sets up a table at Phish's show at the Thomas & Mack Center in Las Vegas to collect donations for a local nonprofit, marking the beginning of the Touring Division. WW goes on to raise over $24,000 for 24 organizations on tour with Phish that year.
1998
Apr
Phish goes on their 4 show Island Tour, with WW raising money for NY and RI based nonprofits.
Jul – Dec
WW hits the road with Phish, raising over $40,000 for 42 organizations, and establishing long term relationships with some like Surfrider Foundation, Columbia Riverkeeper, and Volunteers in Medicine.
1999
Jun – Dec
The band has a year packed with concerts, resulting in WW raising over $84,000 for 55 nonprofits.
2000
Jun – Oct
Phish and WW are back on the road. Fans generously donate over $79,000 to 37 organizations.
2001
Jul – Nov
With Phish taking a hiatus, WW remains active, going out on the road with TAB in the Summer and then Oysterhead in the Fall.
2002
Oct
Listening parties to celebrate the release of LIVE PHISH Volumes 13-16 are held with proceeds going to WW and The Mockingbird Foundation.
Dec
Phish returns from hiatus with a New Year's Run beginning at MSG on NYE, and WW is back at it collecting donations from happy fans.
2003 - 2008
2003
Jan
The New Year's Run continues with 3 nights at the Hampton Coliseum. WW collects over $23,000 in donations for VA nonprofits.
Feb – Dec
WW joins Phish on the road for the year, raising over $99,000 for 35 organizations.
Dec
Phish announces that proceeds from LivePhish.com will go to The Mockingbird Foundation.
2004
April
Phish performs three nights in Vegas, and WW raises over $14,000 for local nonprofits.
Jun – Aug
WW collects over $20,000 in donations for 11 organizations on the Phish Summer Tour.
Aug
Despite the specter of the festival being billed as the last shows Phish would ever play, and the logistical challenges brought on by heavy rain and mud, WW donates over $150,000 to VT nonprofits from Coventry proceeds.
2005
Oct
In the wake of Hurricane Katrina, Phish releases their 4/26/96 performance at the New Orleans Jazz and Heritage Festival on LivePhish.com to raise money for New Orleans musicians. In addition, Dry Goods offers a special "New Orleans Relief" tee shirt and a limited edition Jim Pollock poster. Proceeds go to Tipitina's Foundation and the New Orleans Jazz and Heritage Foundation.
2006
WW continues its mission, giving over $280,000 in donations and grants to VT nonprofits, most of which support land and water conservation efforts.
2007
This year WW makes over $240,000 in donations this year to VT environmental organizations.
Jan
Headphones Jam is released on LivePhish.com with proceeds to benefit Ocean's Harbor House
Apr
To celebrate the 10th Anniversary of Phish Food and WW, Ben & Jerry's Scoop Shops hold a Phish Food shake promotion, where everyone who purchases a shake receives a code for previously unreleased tracks from Phish's 3/18/97 Flynn Theater show, with proceeds of the sales going to WW.
2008
WW gives donations totaling over $193,000 to VT nonprofits throughout the year.
2009 - 2014
2009
Mar – Aug
After four years, Phish gets back together and fans donate over $120,000 to 35 nonprofits via WW on tour.
May
Phish and WW partner with REVERB to create Phish Ride Share to make the Summer Tour greener.
Oct
At Festival 8 in Indio, CA, WW collects over 34,000 for nonprofits like HeadCount, Sweet Relief, and Waterkeeper Alliance. Also, WW hosts Particip8, where fans who volunteer at nonprofits in their communities receive a free scoop of Phish Food at the festival, a free download of a Phish sampler, and are entered to win prizes in daily drawings.
2010
Jan
Phish's 11/19/1992 Colchester, VT show is released on LivePhish.com with 100% of the proceeds going to the Red Cross and Partners in Health to help the victims of the Haiti earthquake. WW matches the first $15,000 raised.
Jun – Dec
Fans donate over $137,000 to 29 WW tour beneficiaries throughout the year.
2011
Mar
Proceeds from the release of Phish's 7/31/99 show at the Fuji Rock Festival benefit Peace Winds America to help Japan earthquake and tsunami relief operations.
May – Dec
WW collects over $93,000 for 20 nonprofits on tour this year.
Jul
At Superball IX in Watkins Glen, NY, in exchange for a donation to WW fans get a limited edition race car cutout created by Jim Pollock.
Sep
In the wake of Hurricane Irene, Phish plays a special show at the Champlain Valley Exposition in Essex Junction, VT to benefit VT flood victims. WW issues grants ranging from $50,000 to $150,000 to VT farms, businesses, nonprofits, food and housing organizations to support Irene relief and recovery efforts.
2012
Jun – Dec
WW raises over $108,000 in donations for 24 tour beneficiaries.
Apr
WW and Ben & Jerry's celebrate their 15 year partnership by hosting the world's largest cowbell ensemble in Burlington, VT.
Aug
At the pre-show event in San Francisco, WW raises over $22,000 for Bay Area charities.
Nov
WW and The Mimi Fishman Foundation join forces to help the victims of Hurricane Sandy by launching a ticket auction for Phish's New Year's run at MSG and raise over $10,000 for The Food Bank of Monmouth and Ocean Counties and The Food Bank for New York City.
Dec
WW hosts pre-show events at MSG to benefit Volunteers In Medicine and raises over $66,000.
2013
Jul – Dec
Fans donate over $136,000 to 25 organizations on tour this year.
Jan
Phish releases their 5/3/93 New Brunswick, NJ concert on LivePhish.com to benefit Hurricane Sandy relief efforts.
Jul
WW raises over $15,000 for the Saratoga Hospital Foundation at the SPAC pre-show event.
Aug
At the pre-show celebration in San Francisco, WW raises over $45,000 for Children's Hospital & Resource Center.
Dec
The pre-show event at MSG this year raises over $46,000 for Sustainable Harvest International.
2014
Jul – Dec
WW raises over $119,000 for 20 noprofits during Phish's 2014 tour.
Jul 
Phish plays 3 shows at Randall's Island, NY, with WW hosting the Big Apple Circus and raising funds for The Lake George Association. Hippieshop.com raffles off a Fuego low rider bicycle, with proceeds going to WW, and Ben & Jerry's and WW release a limited edition Fish Food tee shirt designed by Jim Pollock.
Oct
WW's pre-show event in San Francisco raises over $46,000 for Sweet Relief.
2015 - 2021
2015
Jul – Sep
Fans donate over $89,000 to 14 nonprofits during the Phish Summer tour.
Aug
At Magnaball in Watinks Glen, NY, WW and REVERB partner with Nalgene on refillable water bottles sold at the event, HippieShop.com donates a custom 1979 Volkswagen Super Beetle Convertible inspired by Phish's Rift album to WW's Charity Raffle, and special cornhole boards and score towers are sold with a portion proceeds going to WW.
2016
Jan
WW raises over $43,000 for Women Helping Battered Women at their MSG pre-show party.
WW makes a $5000 donation to Rise Now in honor of Phish's Riviera Maya, Mexico dates.
Jun – Dec
Throughout the year, fans donate over $142,000 to 22 beneficiaries at the WW tables during the tour.
Jul
The pre-show celebration in San Francisco raises over $46,000 for Larkin Street Youth Services.
Oct
WW and The Mockingbird Foundation team up for Read, Spin, Play at Nectar's in Burlington, VT.
Dec
WW and The Mockingbird Foundation host a pre-show benefit at MSG and raise over $38,000.
2017
Jul-Sep
Over $104,000 in donations for 12 organizations is collected at WW tables during the Phish Summer tour.
Jul
During the Baker's Dozen run in NYC, WW celebrates it's 20th Anniversary by holding two pre-show events to benefit nonprofits selected by the band and The Mockingbird Foundation. Ben & Jerry's releases a limited edition ice cream, Freezer Reprise, along with a tee shirt by Jim Pollock, with proceeds going to WW.
Sep
WW and Conscious Alliance team up at Phish's Dicks Sporting Goods Park concert to help communities affected by Hurricane Harvey.
Trey establishes the Tortola Relief Fund to help the people of Tortola rebuild after Hurricane Irma devastates the island. he fund.
Dec
Proceeds from WW's New Year's Run pre-party event benefit the Tortola Relief Fund. WW also collects donations for Hunger Free America and Catskill Mountainkeeper at MSG.
2018
Jul -Dec
Fans donate over $193,000 to 24 WW beneficiaries via WW on tour this year.
Apr
Trey Anastasio Trio's Terminal West show in Atlanta, GA benefits the WaterWheel Cancer Fund in memory of Chris Cottrell
Jun
To celebrate WW's 21st Anniversary, Ben & Jerry's release a Special Stash flavor, It's Ice… Cream, along with a limited edition gift pack of artwork by Jim Pollock, with proceeds benefitting WW.
Dec
Proceeds from WW's New Year's Run pre-show celebration go to benefit Lake Champlain.
2019
Jun-Dec
WW raises over $203,000 for 18 nonprofits from fan donations on tour this year.
Apr
After Phish cancels Curveball due to flooding and drinking water safety concerns, WW donates over $100,000 to nonprofits in upstate NY to help with recovery efforts.
Dec
WW's pre-show event at MSG for the New Year's Run benefits Steps To End Domestic Violence, raising over $45,000.
2020
Mar
With the coronavirus pandemic making touring impossible, Phish announces its Dinner And A Movie free archival webcast series. Donations made to WW during each DAAM webcast support a nonprofit working to help those in need. Fans respond by donating over $800,000 during the series.
Oct
Trey announces The Beacon Jams, an 8-week residency at the Beacon Theater in NYC, which is live streamed for free. Donations collected by WW during the residency benefit the Divided Sky Fund to help those affected by addiction.
2021
Jul – Oct
Live in person Phish shows are back and WW gives over $245,000 in donations to 19 tour beneficiaries.
Sep
Phish moves its Lake Tahoe shows to Shoreline Amphitheatre due to wildfires in NV. Donations to WW go to the Caldor Fire Fund, with funds matched by the band.  WW donates over $128,000 to the fund.
Dec
The New Year's Run in NYC is canceled due to coronavirus concerns. On NYE Phish performs a special Dinner And A Movie Live from the Ninth Cube webcast. Fans donate over $300,000 to 7 nonprofits during the webcast.
Make a Donation Today!
Celebrate 25 years of WaterWheel by making a donation today.  No donation is too small!