Dude of Life Band Pre-Phish Party to Benefit WaterWheel on 12/29 in NYC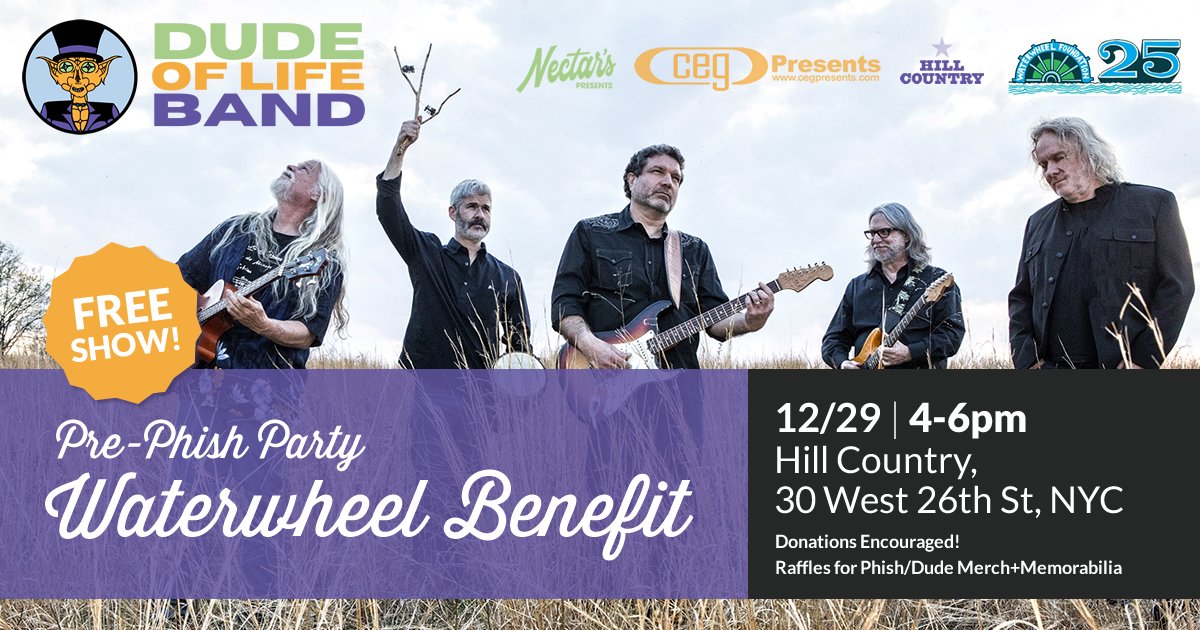 Just announced! Nectar's Presents, CEG Presents, and Hill Country Live present the Dude of Life Band Pre-Phish Party to benefit The WaterWheel Foundation!
There is no cover to get in but donations are encouraged! All donations, regardless of amount, will earn a raffle ticket (one per person). Raffle prizes for awesome Phish and Dude of Life merch and memorabilia will be randomly chosen on stage during the show.
It's all happening on 12/29 4-6pm at Hill Country in NYC. We'll see you there!
About The Waterwheel Foundation
Celebrating its 25th Anniversary this year, The WaterWheel Foundation was created by Phish in 1997 to oversee the band's various charitable activities.  Fueled by the kindness of the Phish fan community, WaterWheel's mission is to create positive change by supporting nonprofit organizations based in Phish's home state of Vermont, especially those focused on cleaning up the Lake Champlain watershed, as well as nonprofits local to each community where Phish's tour stops via WaterWheel's Touring Division.  WaterWheel chooses beneficiaries from a wide sphere of causes including those working to protect the environment, promote social justice, fight food insecurity, provide music education, register voters, and those that help women and children, the homeless and others in need.
About The Dude of Life Band
The Dude of Life Band is a five-person, genre-bending group led by the Dude of Life (aka Steve Pollak). For several decades, The Dude's been writing songs in an ongoing collaboration with Phish and first teamed up with Phish's frontman Trey Anastasio while the two were in high school. The Dude wrote lyrics for a number of Phish's most beloved songs, including Fluffhead, Run Like an Antelope, and Suzy Greenberg, and released the album Crimes of the Mind, recorded with Phish for Elektra Records, in 1994. In recent years, The Dude's developed a more refined sound. A recent burst of creativity has yielded an album's worth of new material which was recently recorded by producer Bryce Goggin. The Dude of Life Band is Steve Pollak on lead vocals and rhythm guitar, Fred Scholl on lead guitar, Charlie de Saint Phalle on bass, Doug Schneider on drums, and Parker Reilly on organ/keyboard.