Phish Riviera Maya Sweepstakes Benefits HeadCount & The WaterWheel Foundation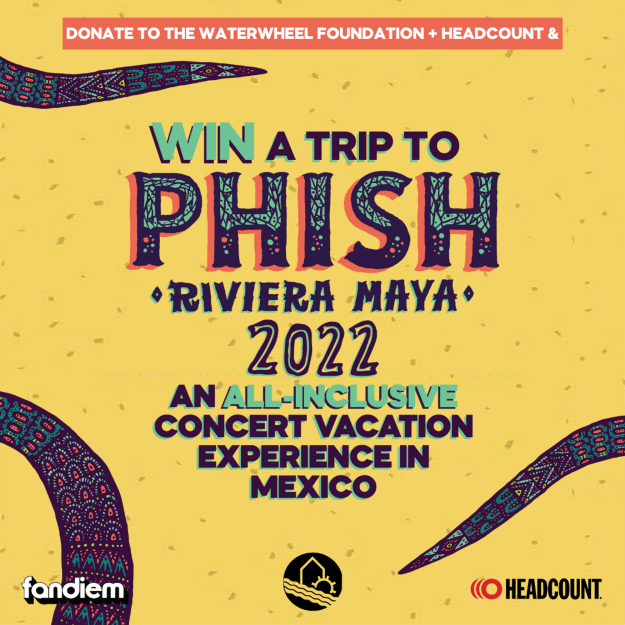 SUPPORT HEADCOUNT & THE WATERWHEEL FOUNDATION
Phish. Riviera Maya. Mexico. White sand beaches. The majestic Gulf Coast. And four magical nights with our favorite band.
We've teamed up with our friends at HeadCount, The WaterWheel Foundation, and CID Presents to send one lucky phan (and a guest) down to Mexico to the SOLD OUT Phish: Riviera Maya – February 24-27, 2022.
You'll get an all-inclusive weekend in paradise at Moon Palace Cancún, the luxurious host resort where you can wade in the ocean, dig your toes in the sand, frolic in the many pools, and see Phish with just a few thousand of your closest friends. There's tacos and margs, sometimes conveniently delivered to you mid-groove. Plush deluxe hotel digs. Good food. Free oxygen — the fresh stuff. Palm trees, clear water, maybe see a starfish or a dolphin – who knows?!
You'll get all of this while supporting HeadCount in their effort to promote participation in democracy through music, culture, and digital media AND Phish's very own The WaterWheel Foundation.
YOUR DONATION WILL SUPPORT
The WaterWheel Foundation was created by Phish in 1997 to oversee the band's various charitable activities. The WaterWheel Foundation chooses non-profits from a large sphere of needs including social services, primarily those benefiting women and children; environmental, with a focus on clean water and land conservation with public access; as well as food banks, urban gardening and the like. Thanks to the generosity of the fans, since its creation WaterWheel's Touring Division has donated over $2,500,000 to more than 500 groups.
HeadCount believes in the power of music and culture to inspire participation in democracy. A non-profit, nonpartisan organization, we've registered over one million voters through our work with partners like Ariana Grande, Camila Cabello, Dave Matthews Band, JAY-Z and Dead and Company. Our online campaigns have won Clio and Shorty awards, while our 40,000 volunteers can be seen at more than 1,000 live events each year. By bringing together young people, musicians, creators, brands and media platforms, we help engrain civic participation into youth culture and make voter participation a social norm.