WaterWheel Pre-show Celebration at MSG on 12/30!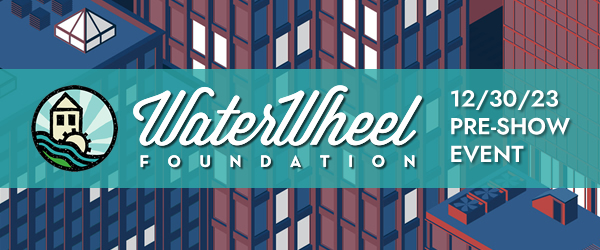 It's hard to believe another year has passed. And what a year it has been for Phish, The WaterWheel Foundation and the whole Phish community! To celebrate, we are hosting a Pre-show Celebration at MSG this December 30th.

We will be raising funds for to support the work we do on the road, lending a hand to non-profits across the tours with in-person volunteer events at each tour stop.  Since the creation of the WaterWheel Foundation in 1997 we have supported a wide variety of non-profits across the entire country and we couldn't do it without you! PLEASE JOIN US IN CELEBRATING A GREAT YEAR AND A GREAT YEAR TO COME. TICKETS FOR THE EVENT WILL GO ON SALE FRIDAY, OCTOBER 20 AT 12:00 NOON ET HERE .

Tickets to the event will include:
A two-hour pre-show with complimentary cocktails and a light dinner (full bar/sandwiches and snacks).
A WaterWheel event poster designed by Jim Pollock
Early entrance into the Concert Venue for those with GA floor tickets via a random number line-up.
A specialty chocolate bar created and donated by Asher's Chocolates
A WaterWheel event Nalgene and more!
A raffle and/or and auction to win autographed items and memorabilia from Phish Archives
Access to private lounge at set break
The opportunity to help lift some amazing non-profits
YOU MUST ALREADY BE A TICKET-HOLDER FOR THE PHISH CONCERT ON THE EVENING THAT YOU ATTEND THE PRE-SHOW EVENT. TICKETS TO THE WATERWHEEL PRE-SHOW EVENT DO NOT INCLUDE TICKETS TO THE CONCERT. IF YOU HAVE A TICKET TO THE PHISH CONCERT YOU ARE NOT GUARANTEED A TICKET TO THE WATERWHEEL PRE-SHOW EVENT. YOU MUST BE 21 YEARS OR OLDER TO ATTEND PRE-SHOW EVENTS.
Tickets to events are not tax-deductible. Please contact your tax advisor for more information.
If you have any questions just email Phish Tickets at phishtickets@ticketstoday.com